Wednesday, September 14, 2011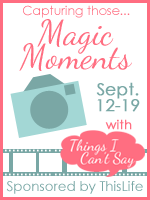 Things I Can't Say
is hosting a picture link up. And not just any pictures. The magical moments that touch our hearts, define our beings and are beyond words. Brilliant!
Many of us have a whole host of these moments in our minds' eye. But we are rarely given the chance to share them with the world.
My most unforgettable moments include my wedding day, seeing my babies on the ultrasound screen, watching first smiles, first steps. All momentous snapshots in time.
This picture here. Magical. Not the first picture I saw of my baby. But it is the first time I was able to see my babe's face.
That face changed my world. That there face. It made me a Mommy.
Cheers Dirties.